Does Your Event Strategy Need to Move Outdoors? Add value to your next event strategy by moving beyond the ballroom walls. Instead of hosting everything indoors, rejuvenate the attendee experience and take your audience outside.
Not only will the change in scenery be an exciting departure from the norm, but spending time in nature can lead to a host of cognitive benefits that would help any event achieve its goals. Moving some of your sessions outdoors can lead to increased focus, creative thinking, and problem-solving. Just imagine what that boost would mean for the outcome of your next event.
Interested? Let's explore some ways to engage in the great outdoors.
Giving Your Strategy a Breath of Fresh Air
Using the all-inclusive greenspace
Choosing a venue with several greenspace options is the easiest place to begin. High-end resorts with their own conference centers can be great options if you want to incorporate indoor and outdoor sessions within a single campus. Resorts will also be able to guide you on the best ways to use their spaces in tandem with one another and can provide a majority of the planning as well.
Amplify this experience by encouraging your attendees to come early or stay after the event and enjoy other offerings. Design a pre-conference information package that includes an insider guide to amenities at the resort and things to do in the surrounding areas.
Incorporating the outdoors on a tight deadline or budget
If it is too late to add off-location sessions to your event or your budget won't allow for large excursions, there are still plenty of great options that will benefit your attendees.
Hosting a networking cocktail hour outside on a balcony or plaza area is an easy, affordable, and quick way to give your guests a change of scenery. Or, add some extra flavor to a lunch or dinner by hosting it al fresco.
A venue that has garden areas creates a great area to encourage guests to visit during downtime and breaks. Creating intentional "wellness breaks" throughout your event is an amazing way to encourage healthy habits and leave your attendees refreshed and ready to focus on the next session.
Whatever your budget or your timeline, make sure that you aren't missing any opportunities to incorporate access to the outdoors.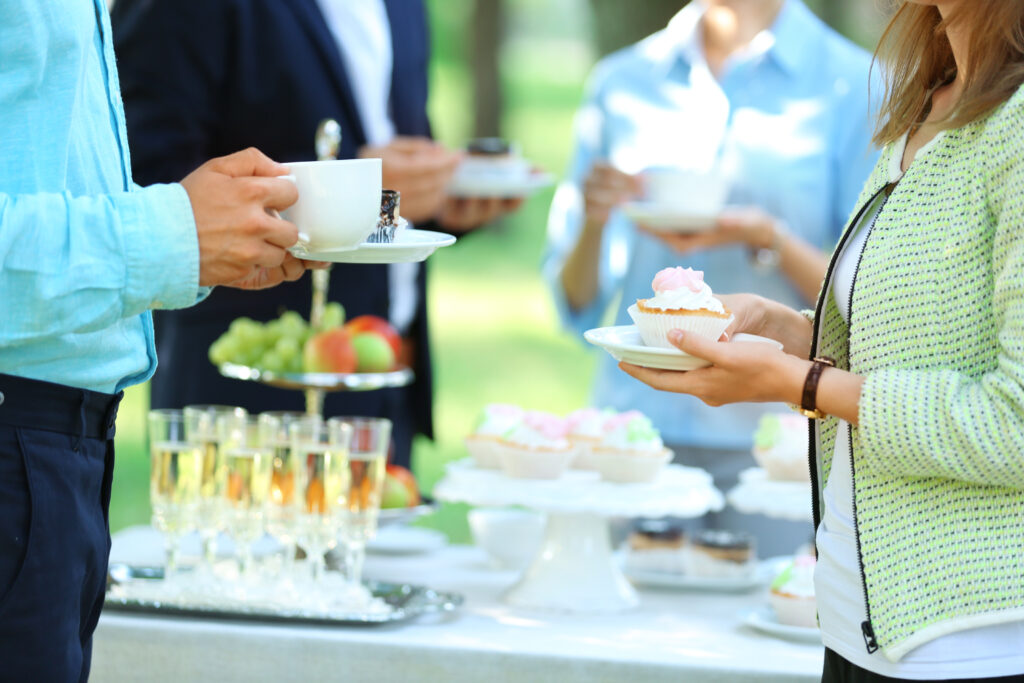 Get the most out of outdoor experiences
At your next event, build your best experiences yet by taking them outside. Don't be afraid to look beyond the location of your main session and find solutions in the surrounding area. Event design has evolved far beyond a venue's immediate spaces, and you want to create an experience that reflects this growth.
When  establishing your event strategy, take into account the area surrounding your event and design sessions that play to those strengths.
For example: if you're in Northern California, you can visit a local vineyard for a private tour of the grounds. After attendees have learned about the different wines, divide them into teams and offer them a mystery wine tasting. Ask attendees to guess which of the vineyard's wines are in each glass and the team with the most correct answers wins.
Want to incorporate more energy into a session? A new spin on a traditional golf scramble is to take attendees to a facility like Topgolf which offers many different team-based golf challenges.
If you would really like to amplify the benefits of an outdoor mindset, here are some fun ways to excite and energize your participants:

Final Thoughts
The more we explore the benefits of outdoor events, the more we realize and see the benefits of spending those hours outside. Better productivity, improved focus, enhanced creativity, and even improved health have all stemmed from time spent outside. Don't miss out on a crucial opportunity to impact employee engagement, retention, and productivity. Give your event strategy a breath of fresh air!